G. Lawrence Farmer, M.S.W., Ph.D.
Associate Professor
.
Graduate School of Social Service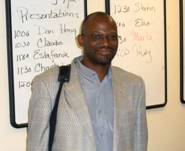 Office:
113 West 60th Street

Room 719-A

New York
, NY 10023-7484
Phone:
Fax:
Subjects Taught:
Advanced Direct Practice in School Settings
Social Work Research In Practice I and II
---
---
Current Interests and Research:

Central to my work is the concern for understanding those social and interpersonal factors that place youth "at-risk" for exclusion from participating fully in society. Specifically, one of the major focuses of my work has been on understanding those personal factors (i.e., educational expectations and future orientation interests), family factors (i.e., parental educational expectations and parental involvement) and institutional/environmental factors (i.e., school safety and access to social capital) that impact on youth's ability to adopt and employ those values and behaviors that will allow them to succeed in primary and secondary educational settings. My current research interests include:
·Integrating research and practice
·Quantitative research methods
·School social work practice
·Youth risk and resiliency

---
Recent Publications:
Farmer, G. L. (2006). African American males' civic engagement: The importance of social organization involvement and friendship diversity.
Journal of African American Studies, 10
(2), 51-68.
Kasmin, M., & Farmer, G. L. (2006). The promise of supplemental educational services: Is the policy failing? C
hildren and Schools, 28
(3), 181-185.
Farmer, G. L., & McMahon, S. (2005). Scale for the identification of acquaintance rape attitudes: Reliability and factorial invariance.
Journal of the Human Behavior and the Social Environment, 11
(3/4), 213 - 235.