Susan Wabuda. Associate Professor of History. B.A., Southern Connecticut State ; M.A. Wesleyan; Ph.D. Cambridge.
Department of History, Fordham University


Office: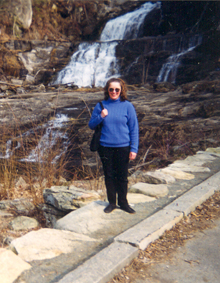 Department of History
623 Dealy Hall
Fordham University
441 E. Fordham Road
Bronx, New York 10458-5159

Email:

Phone:

Fax:

Subjects Taught:
The English Reformation
The West from the Enlightenment to the Present
European Women 1500-Present
---
Biography:

<![if !supportLineBreakNewLine]>
<![endif]>
Susan Wabuda was born in Connecticut.  She received her B.A. from Southern Connecticut State, and her M.A. from Wesleyan University, where she wrote her master's thesis on the sixteenth-century Protestant heretic Anne Askew.  At
The Institute of Historical Research in London in the mid 1980s, she was directed by the late Professor A. G. Dickens.
At Cambridge University, she worked under the direction of Patrick Collinson, Regius Professor of Modern History.  Her doctoral thesis was on itinerant preaching during the English Reformation.
Dr. Wabuda was elected Fellow of the Royal Historical Society in 1999.
Dr. Wabuda specializes in ecclesiastical and social history in the early modern period.  She is the author of numerous works on the history of the Reformation in England.
---
Current Interests and Research:

Dr. Wabuda administers the St. Robert Southwell, S.J. Lecture Series at Fordham University.
Dr. Wabuda's next book will be the first full-scale biography of Hugh Latimer, bishop and martyr, to be written in over fifty years.
---
Recent Publications:
Books:
Preaching during the English Reformation

.

 

Cambridge and New York:

 

Cambridge University Press, 2002 (which is soon to appear in paper).
Belief and Practice in Reformation England:

 

a Tribute to Patrick Collinson from His Students (co-edited with Caroline

Litzenberger

)

Aldershot

and Brookfield, Vermont, 1998.

Selected Journal Articles and Essays:
"Equivocation and Recantation during the English Reformation:

 

the `Subtle Shadows' of Dr Edward Crome', The Journal of Ecclesiastical History, vol. 44, 1993, pp. 224-242.
"The Woman with the Rock:

 

the Controversy on Women and Bible Reading", in Belief and Practice in Reformation England, pp. 40-59.

 
"Henry Bull, Miles Coverdale, and the Making of Foxe's Book of Martyrs", in Martyrs and Martyrologies, vol. 30 of Studies in Church History, edited by Diana Wood. Oxford:

 

Blackwell, 1993, pp. 245-258.
"`Fruitful Preaching' in the Diocese of Worcester:

 

Bishop Hugh Latimer and His Influence, 1535-1539", Religion and the English People 1500-1640:

 

New Voices, New Perspectives,

 

edited by Eric Josef Carlson. Volume 45 of Sixteenth Century Essays and Studies, 1998, pp. 49-74.
"Queen Regnant:

 

Mary Tudor and Her Early Champions 1553-1554", The Joan Henderson Lecture, Occasional Paper
              No. 2, St. Mary's University College, Twickenham, London, 2007.
"Sanctified by the Believing Spouse:

 

Women, Men and the Marital Yoke in the Early Reformation", in The Beginnings of English Protestantism, edited by Peter Marshall and Alec Ryrie. Cambridge:

 

Cambridge University Press, 2002, pp. 111-128.
 

"Triple-

Deckers

and Eagle Lecterns:

 

Church Furniture for the Book in Late Medieval and Early Modern England", in
              The Church and the Book, vol. 38 of Studies in Church History, edited by R. N. Swanson. Woodbridge, Suffolk:  The
              Boydell Press, 2004, pp. 143-152.
On the Web:
Dr. Wabuda also writes for The Oxford Dictionary of National Biography.