E. Doyle McCarthy. Professor of Sociology. A.B. Marymount College, Tarrytown; M.A. New School for Social Research; Ph.D. Fordham University. Department of Sociology & Anthropology, Fordham University.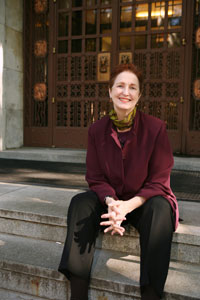 Office:
Fordham University
441 E. Fordham Road
Dealy Hall Rm. 405A
Bronx, New York 10458

Email:

Phone:

Fax:

Subjects Taught:
---
Biography:

E. Doyle McCarthy, Professor of Sociology at Fordham University, is a sociologist working in the fields of the sociology of knowledge and culture and in the interdisciplinary field of emotion studies. McCarthy's current research is on the culture of emotions in contemporary life in the U.S. She is a member of the International Society for Research on Emotion (ISRE) and served on its executive committee from 2004 to 2007. Since 2007, she serves on the Advisory Board of the international journal LA CRITICA SOCIOLOGICA (Comitato scientifio). She currently serves as a member of Fordham University's Center for Ethics Education.
---

Recent Publications:
Books in Print:
Journal and Ejournal Articles:
Articles and Papers: Sociology of Emotions:
"Emotional Performances as Dramas of Authenticity." 2009. Pp. 241-255, Ch. 15 in Phillip Vannini & Patrick Williams (eds.), Authenticity in Culture, Self, and Society. Ashgate Publishing. London.

"Public Displays of Emotion Today: Changing Forms of Memorializing Death and Disaster." Columbia University, New York. Seminar on Contents & Methods. February 14, 2007.
"The Emotions: Senses of the Modern Self," 2002 Österreichische Zeitschrift für Soziologie (Austrian Journal of Sociology), Special Issue on the Sociology of the Senses (Sociologie der Sinne), (Vol. 27, No. 2): 30-49.
"The Social Construction of Emotions: New Directions from Culture Theory." In Social Perspectives on Emotions: A Research Annual edited by W. Wentworth and J. Ryan. Vol. 2, 1994: 267-279.
"Emotions are Social Things: An Essay in the Sociology of Emotions." Chapter 3 in D. D. Franks and E. D. McCarthy, editors. The Sociology of Emotions. JAI Press, Greenwich, CT. 1989:51-72.