Joseph W. Koterski, S.J. Associate Professor of Philosophy
Editor-in-Chief, International Philosophical Quarterly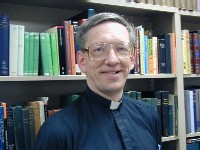 Office:
Fordham University
441 E. Fordham Road
Collins Hall Room 117
Bronx, New York 10458

Email:

Phone:

Fax:

International Philosophical Quarterly
Canisius Hall, Fordham University, Bronx NY 10458
(718) 817-4776 -- ipq@fordham.edu
---
Biography:
Father Joseph W. Koterski, S.J. is a Jesuit Priest of the Maryland Province of the Society of Jesus. He has been a member of the Philosophy Department of Fordham University since 1992 and is the Editor-in-Chief of the International Philosophical Quarterly. He served two terms as President of the Fellowship of Catholic Scholars. Among his recent publications is An Introduction to Medieval Philosophy: Some Basic Concepts (2009). On the Fordham campus he serves as Master of Queens Court Residential College for Freshmen. For The Teaching Company he has produced lecture courses on Aristotle's Ethics, on Natural Law and Human Nature, and most recently on Biblical Wisdom Literature.
---
Current Interests and Research:

Metaphysics, Ethics, History of Medieval Philosophy

---
Recent Publications: