Arnaldo Cruz-Malavé Professor of Spanish and Comparative Literature. A.B., Yale; Ph.D., Stanford.
Chair, Department of Modern Languages and Literatures, Fordham University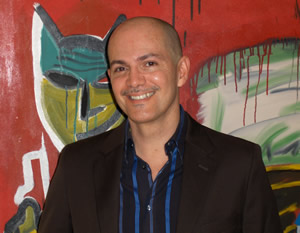 Office:
Faber Hall, 5th Floor
Fordham University
Bronx, New York 10458


Email:

Phone:

Fax:
Subjects Taught:
Latin American, Hispanic Caribbean, and U.S. Latino literatures, film, and cultures; and Spanish language and culture
Frequently Taught Courses

COLP 3910, "U.S. Latino/a Filmmaking"
SPLP 3582, "New York in Latino/a Literature and Art"
SPLP 3901, "U.S. Latino/a Literature and Film"
COLP 1210, "U.S. Latino Migrations in Literature and Film"
COLG 3620, "Caribbean Displacements: Migration in the Hispanic, Anglophone, and Francophone Caribbean"
SPLG 3820, "Hispanic Caribbean Literature: Puerto Rico, Cuba, the Dominican Republic"
SPLG 3200, "Topics in Spanish American Culture: Cultural History of Latin America through Literature and Film"
SPLG 3625, "Spanish American Short Fiction: Sexuality, Gender, Race"

Graduate Courses
LLGA 5008, "Cuba, Revolution, Literature, and Film"

LLGA 5005, "Cultural History of Contemporary Cuba" (Summer 2003, Summer 2004, in
Havana, Cuba, in collaboration with Casa de las Américas)
"The Hispanic Caribbean: The Nation and Its Others" (University of Pennsylvania, Spring 2003;
Emory University, Spring 2001).

"Caribbean Transitions" (Harvard University, Spring 2008)
---
Research Interests :

Contemporary Hispanic Caribbean Transitions, Queer Diasporas, José Lezama Lima, New York in Latino Literature and Film, and Urban Latino Culture
---
Publications:
Books in Print: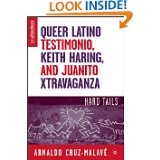 Queer Latino Testimonio, Keith Haring, and Juanito Xtravaganza: Hard Tails. New Directions in Latino American Cultures series, ed. José Quiroga and Licia Fiol-Matta. New York: Palgrave/Macmillan, October, 2007.
"A story of the abject, an urban cultural history, and a literary meditation, Queer Latino Testimonio is a glorious assemblage of voices, images, rhythms, and sensualities of the turbulent last two decades of twentieth-century New York City. A stirring portrait of the upheavals, deaths, and hopeful futures of bodies under siege."--Martin Manalansan IV, Associate Professor of Anthropology, University of Illinois at Urbana-Champaign, and author of Global Divas: Filipino Gay Men in the Diaspora

Queer Globalizations: Citizenship and the Afterlife of Colonialism. New York and London: New York UP, 2002. Coedited with Martin F. Manalansan. An anthology on globalization, diasporas, and sexuality. With an introductory essay by Cruz-Malavé and Manalansan IV. Contributors include: Cindi Patton (Emory), Janet Jakobsen (Columbia), and Silviano Santiago.
Reviews: Robert Reid-Pharr, "Extending Queer Theory to Race and Ethnicity," The Chronicle of Higher Eduaction, August 16, 2002.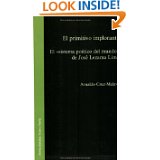 El primitivo implorante. El "sistema poético del mundo" de José Lezama Lima. Colección de Teoría Literaria: Texto y Teoría, ed. Iris Zavala. Amsterdam/Atlanta: Editions Rodopi, 1994. Nationalism and sexuality in the prose fiction of Latin America's modern classic, José Lezama Lima.
Reviews: Ben A. Heller, Revista de Estudios Hispánicos XXX, 1 (January 1996); Alberto Pérez Amador Aman, Notas 4, 2 (1997): 109-111; Arthur Terry, Bulletin of Hispanic Studies (January 1998): 127. Recommended by Insula, 28 (Nov.-Dec. 1995).

Journal Articles:
"The Oxymoron of Sexual Sovereignty: Some Puerto Rican Literary Reflections," CENTRO: Journal of the Center for Puerto Rican Studies XIX, 1 (Spring 2007): 50-73.

"Colonial Figures in Motion: Globalization and Translocality in Contemporary Puerto Rican Literature in the United States," CENTRO: Journal of the Center for Puerto Rican Studies XIV, 2 (2002): 5-24.

"Lecciones de cubanía: Identidad nacional y errancia sexual en Senel Paz, Martí y Lezama," in Enrico Mario Santí, ed., Cuban Studies 29 (Pittsburgh: University of Pittsburgh, 1999), 129-54, and Revista de crítica cultural 17 (noviembre 1998): 58-67.

"What a Tangled Web!: Masculinidad, abyección y la fundación de la literatura puertorriqueña de los Estados Unidos," Revista de Crítica Literaria Latinoamericana XXIII, 45 (Lima-Berkeley, 1997): 327-340. (Also in English: "What a Tangled Web!: Masculinity, Abjection, and the Foundations of Puerto Rican Literature in the United States," differences 8 1(1996): 132-51.)

"Toward an Art of Transvestism: Colonialism and Homosexuality in Puerto Rican Literature," in ¿Entiendes? Queer Readings, Hispanic Writings, eds. Paul Julian Smith and Emilie L. Bergmann ("Series Q," Duke University Press, 1995): 137-67. A shorter version in Queer Representations: Reading Lives, Reading Cultures, ed. Martin Duberman (New York University Press, 1997): 226-44.

"El primitivo implorante: Performance e identidad en La expresión americana de José Lezama Lima," Apuntes Postmodernos/Postmodern Notes 5, 1 (Fall 1994): 49-57.

"Para virar al macho: La autobiografía como subversión en la cuentística de Manuel Ramos Otero," Revista Iberoamericana LIX, 162-163 (Jan.-June 1993): 239-263.

"Teaching Puerto Rican Authors: Modernization and Identity in NuyoricanLiterature," ADE Bulletin [Association of Departments of English of the MLA] 91 (Winter 1988): 45-51.

"La historia y el bolero en Sólo cenizas hallarás (Bolero) de Pedro Vergés," Revista Iberoamericana LIV, 142 (enero-marzo 1988): 65-72.

"Repetition and the Language of the Mass Media in Luis Rafael Sánchez's La guaracha del Macho Camacho," Latin American Literary Review 26 (July-Dec. 1985): 35-48.